A crisp meaty pizza topped with savory flank steak, nutty baby portabella mushrooms, creamy Gorgonzola Cheese, and tart Balsamic reduction.
Jump To
Why you would like this recipe
It is not your typical pizza. The combination of ingredients is derived from steakhouses, something local pizzerias might not offer regularly.
Ingredients
London Broil Steak or Flank Steak: I have used both London Broil Steak and Flank Steak to make this pizza. A beef skirt will also work well as an option. Marinate the steak for at least 30 minutes before starting the pizza.
Baby Portabella Mushrooms: Pictured above is a mixture of baby portabella mushrooms and a chef blend. When I went to the store that day, there were not as many baby bellas as I needed. Mushrooms tend to reduce in size considerably when cooked, so consider buying more mushrooms than you think you need.
Gorgonzola: There are subtle differences between blue/green cheeses. I chose gorgonzola because I find it creamier and milder in "funk," for lack of a better term for the blue or green mold these cheeses have within them.
Pizza dough (not shown): I am yet to master the art of making pizza dough, so I do cheat and purchase pizza dough from my local supermarket.
Sundried Tomato Pesto (not shown): I went with a richer tangier sundried tomato pesto instead of pizza sauce. The pesto gives this pizza a fantastic amount of flavor and punch.
Shredded Mozzarella: A small amount goes a long way in this pizza. It helps as a binder and lowers the amount of gorgonzola needed to make this pizza.
Step-by-Step Instructions
Season the meat. Let it marinate for at least 30 minutes to an hour. Then sear the meat to medium rare. Once seared, remove the meat from the pan and let it rest.
In the same pan, saute the onions.
Caramelize the onions. Remove the onions once caramelized and let rest. Option to add a small amount of balsamic glaze to the onions for added flavor.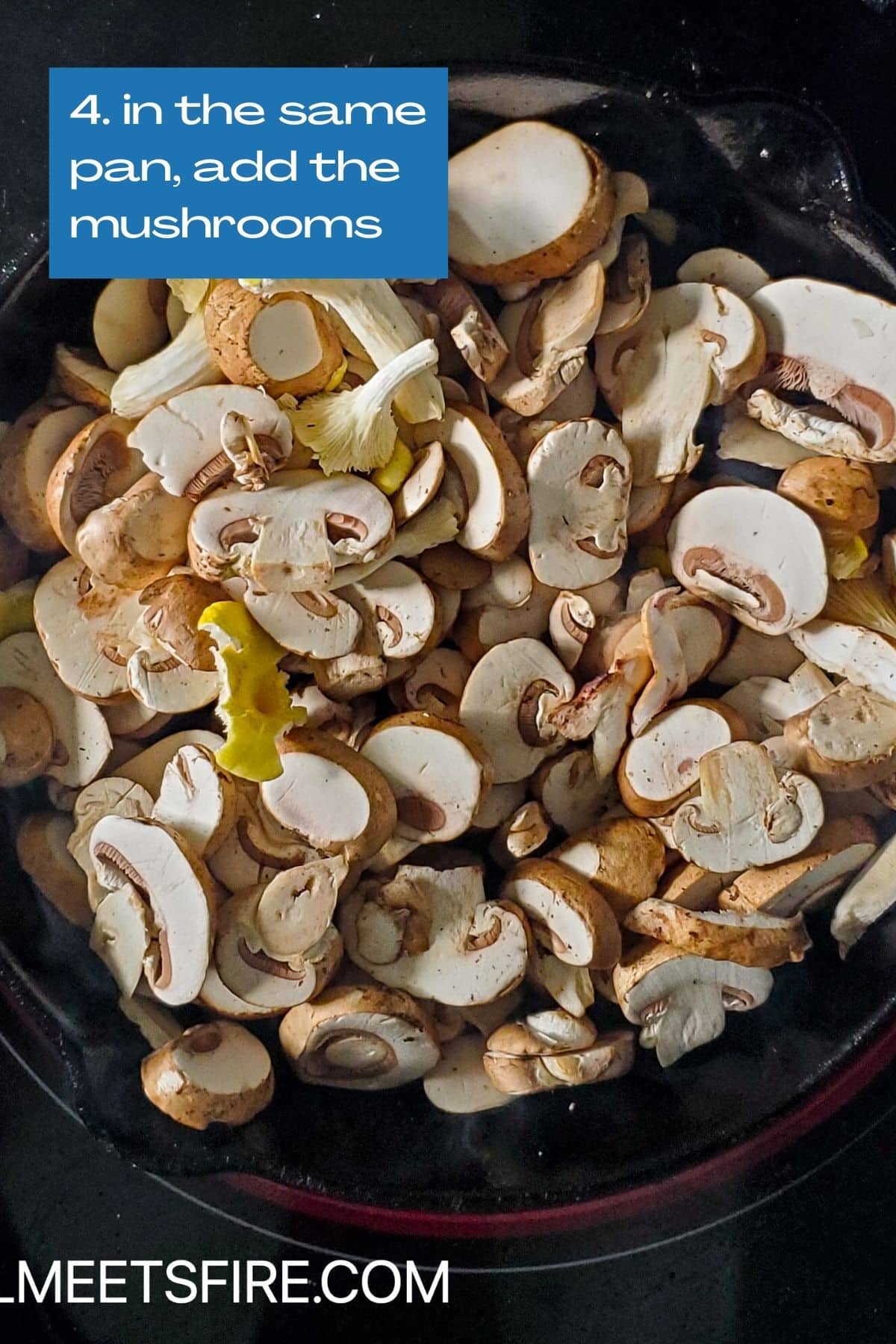 In the same pan, add the mushrooms. The mushrooms will take the longest. The mushrooms will release a lot of water, allow them, and do not toss them as much. Once the water evaporates, keep a closer look, as the mushrooms could burn, but continue to cook them until they are tender.
Stack five to six basil leaves from largest to smallest. Roll the leaves into a tight roll like a cigar. Holding it firmly, slice the roll into thin ribbons. Set aside.
Roll out your pizza dough. You can use a rolling pin. If you want an alternative method, look at my Expert Tips for an alternative way to prepare the dough. Add the sundried tomato pesto to the dough and spread it over the pizza.
Option to add a small amount of shredded mozzarella before you add your toppings. I didn't use the mozzarella under my toppings, and although the pizza was delicious, it would have helped to have the mozzarella as a binder. Top the pizza with the steak, mushrooms, caramelized onions, and basil.
Crumble gorgonzola cheese over the pizza with shredded asiago cheese.
Once the pizza is baked, drizzle the pizza with balsamic glaze. Let the pizza rest before slicing and serving.
Expert Tips
Spinning Dough: The flour is a lubricant because it helps the dough move on the table. Dust the table with flour. Gently pad the dough with the meaty part of the fingertips until the ball is spread into a thick disk. To spin the dough on the table, bring the hands together and gently spread your fingers to expand the dough and spin the dough all at the same time.
Make a Thinner Pizza: If you are interested in a thin pizza, cut the dough in half. Use panko or cornmeal along with the flour when spinning the dough. The panko or cornmeal works as a grinder, making minor cuts to the dough, which allows the dough to spread outward. The cornmeal/panko also helps keep the dough thin, like forking a pie dough before you pre-bake it. If this method is not for you, skip the panko and cornmeal.
Grill it: Especially the thin-crust pizza. Make sure any meat products, except for pepperoni, that the meats are partially cooked since the cooking will be faster than in the oven.
Frequently Asked Questions
What steak is good for pizza?
For this recipe, I used London Broil Steak. However, I love a good flank steak in this recipe. Another good cut would be Beef Skirt and Ribeye Steak.
Should I cook meat before putting it on the pizza?
Yes. If you carve the meat extremely thin, it might fully be cooked by the time the pizza is ready, but if you are not into meat rarer than medium, par-cook the meat before adding it to the pizza.
Is it better to slice the pizza while it is hot or cold?
I would never cut the pizza while it is cold, for example, a pizza coming from the fridge into the oven. But wait a few minutes to cut a hot pizza. Allow the cheeses to cool slightly before cutting. This will make a cleaner cut.
Other main course inspirations
I want to know what you think! Did you make this recipe? Please, leave a review and a rating below. You can also find me on Instagram! Please sign up for my email list to receive my newest and latest recipe.
Recipe
Steak Mushroom Pizza with Gorgonzola Cheese
A crisp meaty pizza topped with savory flank steak, nutty baby Bella mushrooms, creamy Gorgonzola cheese and tart balsamic reduction.
Ingredients
1

lb

London broil steak

1

tablespoon

Worcestershire sauce

1

tablespoon

garlic paste

1

pinch

salt

1

teaspoon

ground black pepper

¼

Cup

Gorgonzola

¼

cup

Shredded mozzarella

1

pint

Sliced Baby Portabella Mushrooms

1

Pre-made Pizza Dough

¼

Cup

Panko

¼

Cup

Flour

2

tablespoon

Balsamic Reduction

3

tablespoon

Olive Oil

3

Cloves

Garlic

1

tablespoon

Oregano
Instructions
Marinade
Mix Worcestershire, garlic paste, and salt and pepper.

Marinade Flank Steak for at least 30 minutes.

Preheat oven to 400 degrees.
Spin Dough
Let dough come to room temperature

Mix flour, cornmeal, and panko

Take half of the flour mix and spread on the table/counter top

Take dough and place on floured surface

in a fanning motion, spread the fingers outward as your hands press down on the dough.  Turn the dough as you spread the fingers.

Repeat until dough is at a desired size.  Do not press too hard that it will create thin spots or dough will rip.

Place dough in pizza plate and par bake for 5 minutes.
Balsamic Reduction
On a small sauce pot, pour about half a bottle of balsamic vinegar

Let vinegar simmer until reduced to half about 20 minutes

Let rest
Saute Mushrooms
On a medium saute pan, saute mushrooms with about 1 teaspoon of olive oil

Allow mushrooms to render all their liquid

Once liquid has evaporated, add salt and pepper to taste.  I like to add some chopped garlic for added flavor.  Set aside.
Topping Pizza
Crush garlic with Olive Oil, dried oregano, salt and pepper

Spread garlic mixture on top of par baked pizza dough

Spread crumbled Gorgonzola on top of pizza crust

Thinly slice flank steak and spread on top of Gorgonzola

Add mushrooms

Add more Gorgonzola cheese to top

Bake for 10-12 minutes until golden brown
Finishing Options
Option to add fresh arugula to top the pizza once it comes out of the oven

Drizzle with balsamic reduction
Nutrition
Serving:
2
slices
Calories:
603
kcal
Carbohydrates:
68
g
Protein:
40
g
Fat:
20
g
Saturated Fat:
5
g
Polyunsaturated Fat:
2
g
Monounsaturated Fat:
10
g
Trans Fat:
0.01
g
Cholesterol:
74
mg
Sodium:
965
mg
Potassium:
968
mg
Fiber:
4
g
Sugar:
11
g
Vitamin A:
82
IU
Vitamin C:
2
mg
Calcium:
112
mg
Iron:
7
mg