The combination of chicken and rice is very dear to the Puerto Rican community. As a Puerto Rican, it is hard to enjoy many of our regular meals because of the sheer amount of carbs in our cuisine when you are following a ketogenic lifestyle, but low and behold, there is an alternative, cauliflower rice!
When I first came across the idea of cauliflower rice, I was not thrilled or excited. Until then, I have not been quite a fan of the vegetable. I find cauliflower to be a bit stinky, with an off-flavor, so when I learned that cauliflower is an excellent substitution for many traditional carb-loaded side dishes, I rolled my eyes to the back of my head and thought, "WHY?!".
This was inspired by my other recipe on this site, and pairs well with this amazing side dish recipe. Contextual, in-content links are far more valuable than a group listed at the bottom of the post.
Jump To
Ingredients
The beauty of using cauliflower instead of rice is that it is much faster to cook. So, if time is of the essence, cauliflower rice comes to the rescue. The same ingredients for regular rice can also be used to keep that authentic Puerto Rican flavor.
Riced Cauliflower
Bacon or Tocino (to keep things keto😉)
Achiote Oil
Powdered Adobo
Onion
Garlic
See the recipe card for quantities.
Instructions
Dice onions and garlic, and set aside. Dice about two slices of bacon.
Heat a sauté pan, yes, you read right a sauté pan. No boiling is needed, so you do not need a pot to make the rice. Add achiote oil. Heat through and start cooking the bacon.
Add onions and garlic. Cook until soft and translucent.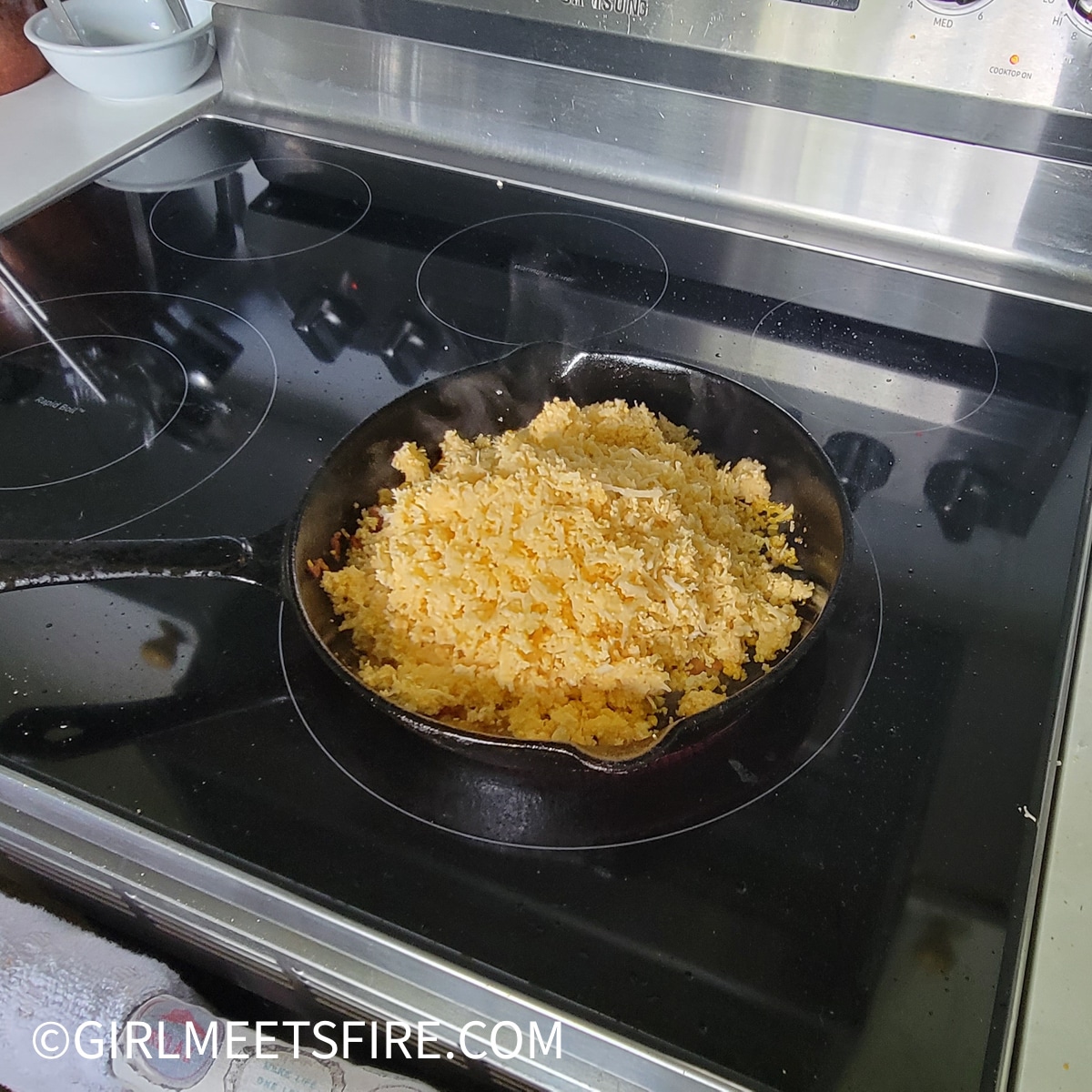 Add riced cauliflower. Toss it around the onions, garlic, and achiote oil. To tint the cauliflower with the achiote oil. Add a bit more achiote oil to adjust the coloring.
Add a dash of Loisa's Sazon. This sazon has all the flavor we Puerto Ricans love without the stuff we do not want in our food. Cook until cauliflower is nice and tender.
To Serve:
Place a spoonful of cauliflower rice on your plate and top with two pieces of crispy chicken thighs. Garnish with a slice of avocado, a simple lettuce and tomato salad, and a sprinkle of cilantro. Buen Provecho
Substitutions
If cauliflower is still not your cup of tea, consider using the following:
Broccoli - Yes, priced broccoli is a thing and you can find priced broccoli right next to riced cauliflower at your grocer's freezer.
Palmini - Palmini offers a rice variation on the hearts of palm products. I am working on giving this a try and as soon as I do I will let you know.
Jicama or Celeriac (Apio) - Maybe a bit more work but shredding jicama or celeriac (Apio) and squeezing the excess liquid will render a good portion of low-carb rice.
Variations
I shared a very simply mild way of preparing chicken thighs that could easily be enjoyed by anyone. Below, are a few variations to add to your chicken to switch it up a bit.
Spicy - puree a few cloves of garlic, lemon juice, salt, pepper, cumin, tomato paste, and a few rehydrated guajillo peppers. Blend to a paste. Rub the paste onto chicken thighs and allow to rest for at least 30 minutes.
Asian Inspired - add a tablespoon of ground ginger to my adobo paste and a few tablespoons of Coconut Aminos. Accompany your Asian-inspired Chicken with quick fried rice by adding small diced ham, carrots, green onions, and a well-beaten egg to turn your cauliflower rice into fried rice.
Dry Rub - Mix powdered garlic, onion, paprika, a pinch of mustard, salt, pepper, cumin, and a bit of Lakanto Brown Sugar.
Print Recipe
Puerto Rican Inspired Keto Cauliflower Yellow Rice With Oven Roasted Chicken Thighs
Food safety
There are not many food safety concerns when it comes to vegetables, for they do not have fluids to cause cross-contamination or become poisonous if undercooked. But once they are cooked, there are potential for hazards.
Cook to a minimum temperature of 135 °F (57 °C)
Do not use the same utensils on cooked food, that previously touched raw meat
Wash hands after touching raw meat
Don't leave food sitting out at room temperature for extended periods.

If the vegetables are cooked but are not going to be eaten for a while or you have leftovers. Store them loosely covered in the refrigerator until chill, then cover tightly for storage. Leaving any food to cool at room temperature increases the changes of bacteria growth.

Never leave cooking food unattended
Use oils with a high smoking point to avoid harmful compounds
Always have good ventilation when using a gas stove
See more guidelines at USDA.gov.